A beginner golfer's guide to winter play
Date published

Categories

Tips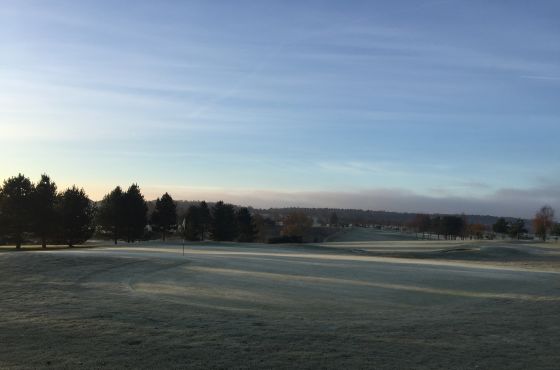 You're just about getting to grips with this golf thing, and then just like that winter creeps up and changes the game! Not to worry, our PGA pro, Chris, has put together a list of handy hints for winter play, to set you on the right track.
Learn the winter rules
In the UK, from about October to March, winter rules come in to play to help compensate for wet, muddy and icy ground conditions. You'll know when the rules are in action because this will be clearly signed at your club – you'll see ours on the notice board or printed in the competitions book in the pro shop.
In a nut shell, you've got the option to mark, lift, clean and place your ball, if you need to, through the green. This rule is often called 'preferred lies'. As of January, when the new golf rules are introduced, you'll be able to improve the lie of your ball anywhere on the course. The current rules dictate that you can only do this on the fairways and in the rough (by using the dropping rule). Preferred lies works like this:
Mark your ball's original position, using a tee peg or ball marker, before you lift it.
Clean your ball to get rid of any mud.
Place your ball back in the same position or within a scorecard's length of the original position, making sure that your ball is no closer to the flag in distance. You can only place or drop your ball once (unless the ball roles closer to the hole), and there's no moving it, so make it count.
Try using a yellow ball
Chris suggests using a yellow ball when it's frosty or overcast, which will make your ball easier to spot, especially in the rough. Lots of premium brands offer coloured balls these days so there's no need to compromise on quality.
Watch out for aeration holes
On the tee boxes and putting green you might find little aeration holes in the ground, which are about the size of a five pence. These holes are created by green keepers to let air down to the roots of the grass and to help it grow.
It's possible that your ball might land in an aeration hole and if it does you can mark it, clean and replace it on the fairways and greens, or drop it if the ball lies in the rough. The dropping procedure will also be changing from January, you'll now need to drop your ball from knee height, rather than shoulder height. This change in height is being brought in to help speed up the pace of play.
Beware of embedded balls
When it's wet or muddy underfoot, it's easier for your ball to get plugged in your pitch mark. If your ball gets embedded on any part of the course, you're well within your rights to lift, clean and place it (or drop it in the rough) before you continue play.
Take advantage of winter deals
Most golf clubs run winter offers and we're no different! This winter you can bag yourself three hours of tuition, with any of our academy or senior instructors, for just £99. All you need to do is buy a three hour flexi package before 28th Feb and make sure to use your lessons by 31st March.
You can split the tuition time however you like – use all three hours in one go, take 30 minutes sessions, whatever suits you. Time for a Christmas present to self? You'll be top of your game for the 2019 season in no time.
Layer like a pro
Chris says,
"You don't need to wear as many layers as you'd think to play during the winter. Start with a base layer, wear an isolative layer over that and then pop a windproof layer on top to keep warm. Wearing fewer layers, and layering smart, will improve your mobility."
Chris' top tips should help you tackle the rest of winter – we know it can be a tricky time on the course. And remember, we don't have winter greens or winter tees at Leeds Golf Centre, which means fairer putting and no shortened course.
Check out our series of pro tips for beginner golfers on the blog