Ellie's experience of the WPGA Lombard Trophy 2018
Date published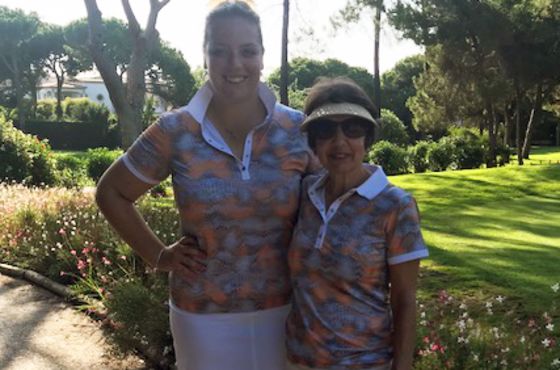 With the recent PGA National Pro-Am Championship still fresh in our minds, our PGA Professional, Ellie, takes us through her journey to the grand finals of the WPGA tournament.
The quest to find a playing partner
As the championship name suggests, every pro player needs an amateur player to partner with for the WPGA tournament. And so to find mine we held a club competition for our ladies section. Marise won this and the WPGA would be her first major tournament as an amateur.
Marise has been playing in our Evening League Team for a few years now and last year she joined our A Team too. She's been playing golf since 1995. Previously, Marise was a squash enthusiast but an injury persuaded her to take up something less frenetic and that's how she found golf. I was really pleased to have her as my partner and it was lovely to know that she was excited to have the opportunity to compete with me too.
Regional qualifying at Dunham Forest
There are two regional qualifying venues across the country and we competed at Dunham Forest on 23 July. 40 ladies' teams took part in this stage and the top three from each venue qualified for the finals. It was a four ball, better ball format and we shot five under, coming second overall. What a great start to the tournament!
I was pleased to discover that a record number of teams entered this year, especially since the tournament is only in its third year. Even though it meant that the competition was stiffer, it's great to see that women's golf is continuing to grow.
The grand final at Vila Sol, Portugal
We were one of six pairs to compete in the final stage so every moment mattered!
Wednesday – practice day:
I'd seen the Vila Sol course before as I played the first year of the tournament but this was Marise's first time playing here so this was a good chance for her to familiarise herself with the course. I dedicated the day to golf course management and planned how we were going to play. The practice day always helps get rid of any nerves.
In the evening there was a welcome barbecue where we socialised with the other competitors, and met the male pros and amateurs. The ladies' golf circuit is small so I knew most of the pros; one of them I knew very well because she's my best friend. We love it when we qualify together!
Caddies were invited along too. Our Leeds Golf Centre Lady Captain, Helen, was caddying for Marise and my dad was my caddy. Dad's been on caddy duty for over 20 years now, for both me and my elder brother, and he's such a reliable and reassuring presence.
Thursday – first day of the tournament:
We were last off on the first day and, funnily, we were drawn against my friend. It's tricky when you're playing against a pal; you want them to succeed but you also want to beat them!
Marise was quite nervous on the first tee but she hit an absolutely cracking drive, which gave her more confidence going forward, and I was really proud of her. I still get a bit nervous too.
Playing for five and a half hours, in 30 degree heat, is definitely wearing. I would say that the mental side (all of the thinking, striving to play my best game and coaching Marise) was more draining than the heat though. There's a lot to wrap your head around while you're out there. And on top of all of that you've got to keep hydrated, which is no mean feat!
We had a great round though and ended in second position, just one shot behind the leaders. This put us in a strong position for the final day so we were left feeling really positive. The highlight had to be Marise's eagle on the 15th hole. Everyone back home watching the scores thought that she'd got a hole-in-one so we got loads of excited texts.
Friday – final day of the tournament:
Marise and I were last out again on the final day because we were in second place. The first nine holes went really well and we were one shot ahead of the pack at this point – what a feeling! Then on the tenth hole, our luck changed as I played a two shot swing and we ended up one behind. A blooming double bogey.
The tenth hole only made us more determined and we pulled things back again with three pars on the bounce. This kept things on track for a few subsequent tricky holes. I just lipped our for the birdie on the 17th – it was a par four – and I had a long putt for a three that lipped out. So we made par and we were still one behind going down the last.
I knew that second place was already in at one behind therefore I decided that we should push for a birdie on the last hole, to get in to a play-off. Unfortunately we bogeyed it but we still secured third place. I was a bit disappointed to begin with but now I'm feeling proud of our achievement and even hungrier for next year. To say I couldn't even hit a golf ball, due to my ongoing back problems, for three weeks before the tournament I think I did a great job. And my best friend came fourth so I still beat her haha!
Here's what Marise thought of the WPGA
'It was just a great experience. Obviously it was a bit nerve-wracking at times – especially trying to balance the ball on the first tee! But it helped that everyone was very friendly and supportive. And I really enjoyed playing with Ellie. The course in Portugal was very impressive as well – if a little challenging (must sort out my chipping)!'