Get to know the Par-3 Club
Date published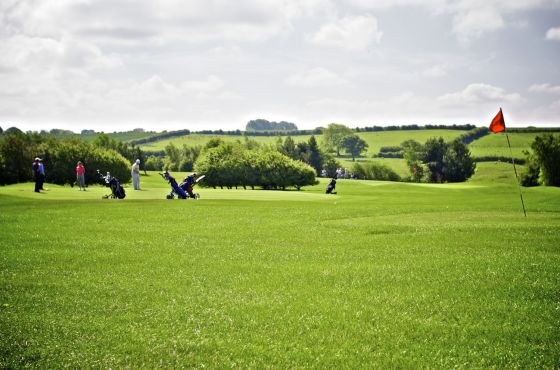 Every Thursday morning, without fail, our clubhouse comes alive with chatter, chuckling and the chinking of coffee cups as the Par-3 Club hold their weekly meet up.
We went along to find out more about the club, their members and how to get involved. Let us introduce you to this boisterous bunch:
Who are the Par-3 Club?
Well, member of 15 years, Paul, is the best person to fill you in on that:
"We're an 80 strong group of golf lovers, all of a certain age", he says with a mischievous grin spreading across his face.
Paul got into the game when his wife bought him lessons as a present. He'd never played golf before but began to enjoy it straight away. Before long Paul's neighbour was encouraging him to come along and join the club because they welcome all abilities. He's been a member ever since.
Since 1993 (before our Wike Ridge course even existed!) the club have been bringing people together for a friendly round. And the only thing you need to join is an enthusiasm for the sport. "It really doesn't matter about your capability", Paul is keen to assure, "but you will improve!"
What happens each Thursday?
Each week all sorts of people, both members of Leeds Golf Centre and non-members, come along to play a relaxed round on The Oaks, our par-3 course. Groups are randomly assigned when you arrive to get you playing with different people and varying skill levels. Cue two hours of friendly but competitive play!
The club committee organises year-round tournaments and there's an informal prize giving each Thursday after play, while everyone enjoys tea and coffee together. But don't let your competitive streak keep you from enjoying the social side of the club.
Meet some of the members
Many members are retired, some live alone, and others are widows and widowers so getting together after a round and making new friends is all part of the course (no pun intended!).
"It's lovely, we love it. We've been coming for two years but wish we'd have joined sooner"
- Doreen and her friend (who we didn't catch the name of because she was booking them in for the club's Christmas dinner).
One member, Peter, can't emphasise enough what a warm welcome he received when he joined just a year ago. He tells us that it was a great way to meet people with similar interests after moving to the area. Peter's friend Graham chips in to tell us that he came on a seniors coaching course here last year and met a Par- 3 Club member who had nothing but great things to say about the club. He joined the following week.
The same rings true with John and Eileen, who completely moved golf clubs after hearing about how friendly the Par-3 people are. That was 18 months ago and the couple have no regrets. We're pretty pleased to hear that they think our course is nicer than their previous one.
John enjoys the convenience of the course being so close to the clubhouse and Eileen has made friends that she now plays with on Mondays too. She and her new friends have just booked a two day golf retreat in Northumberland, in fact.
The couple tell us that they used to play tennis on a Thursday morning but choose to come to the Par-3 Club now because they enjoy it so much.
So why join?
Another Peter jokes that "it's age". He tells us cheerily that he used to play on Wike Ridge but can't do the long drives anymore. You don't need to get the ball as far on our par-3 course so, for Peter, it makes perfect sense to come along to the Par-3 Club now.
Joking aside, the club gives members something to look forward to each week, and, for some, an excuse to get out of the house. Peter also divulges that he's made a completely new group of friends by joining and we can see how much this means to him as he sits, surrounded by them, chatting and enjoying a coffee.
"some people continue coming to the club even when they can't play anymore. They come for a chat and to be involved in the social side."
– Colin, who took up golf when he retired and has been a member for four years.
The Par-3 Club community really is something special. They look out for their members by sending cards when people are ill and they support local charities too. Janet brings the latest donation certificate over to show us. The Par-3 Club recently raised £500 for Take Heart, a charity that works with the LGI to make patients' stays more comfortable. Apparently quite a few members have been treated at the LGI over the years so the club wanted to give back.
As the Par-3 members leave the clubhouse we hear them arranging next week's meet ups for coffee or golf and it becomes a few decibels quieter (don't worry, they know they're a noisy bunch). Teeing off times are between 8am and 9am during the main season and 8.30am to 9.30am in winter. If you'd like to join, come along to Leeds Golf Centre one Thursday soon.