How our free custom fitting service could improve your game
Date published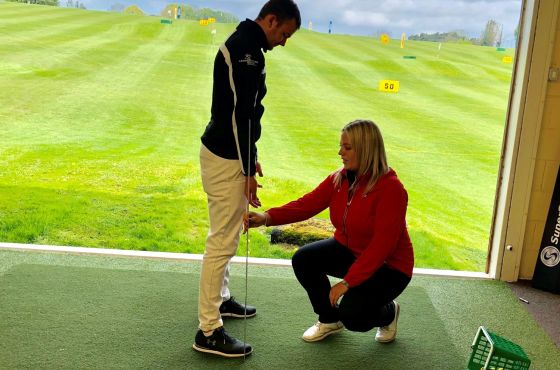 We're going to let you in on a big secret here…the clubs, that are sitting innocently in your golf bag right now, might actually be holding you back in your game. Ask any of our pros and they'll tell you that playing with ill-fitting clubs can really affect your golf.
But hang on before you chuck your old clubs out, because they've got a role to play in the journey to finding your perfect, custom fitted set of clubs. There's some cool tech and a lot of fun involved too.
Why come in for a custom fitting?
Most importantly, making sure that you're using the right equipment for you is going to help you get the most out of your game. In fact, we would be really surprised if having your clubs custom fitted didn't improve your golf!
And then there's also the fact that you can try out a wide range of brands, including Callaway, Titleist, Taylormade, Ping, Mizuno and more, paired with expert advice from our knowledgeable pros and the help of TrackMan technology to ensure that every last detail of your swing is taken into account.
What kind of clubs should I have custom fitted to me?
Our pros are trained to custom fit any kind of club you need them to. We most commonly fit irons but we can do woods, wedges and putters too. Most golfers don't realise that they actually need to get their putters fitted but it can do wonders for your lie angle and loft.
What's involved in a custom fitting?
A custom fitting lasts about an hour and takes place in one of our private teaching bays (don't worry, you won't have the whole world watching in the pro shop!). Our pros will talk to you about your game, get you to test out your existing kit and monitor various factors on TrackMan before letting you loose with clubs that are perfectly tailored to you.
Here's what a custom fitting usually looks like:
An initial assessment:
First of all we'll discuss what you've come in to get fitted for and how you'd like any new equipment to improve your game. Then depending on what you're coming in to get fitted for, let's say irons, we would access the clubs you're currently using and your set make up.
We'll also ask what courses you generally play on. For example, if you often play on links courses, then we might look at lower lofted irons to combat the windy conditions. All of this information helps us tailor the fitting process to your needs.
Next, we'll get our TrackMan technology involved and we'll ask you to hit a few shots with your current seven iron because all of our fitting heads are seven iron lofts so this gives us a perfect comparison for when we try out new club specifications. TrackMan will help us to understand things like your club head speed, ball speed, smash factor, launch angle, spin rate, ball flight curvature and shot dispersion, which should all be taken into account. Using TrackMan also allows us to save your data, so we can compare how you do with different clubs and how your new clubs have improved your game weeks and months down the line.
The fitting process:
We start off by taking your height and your wrist to floor measurement, and this gives us a starting point for the length of shaft and the lie angle.
Then, we choose a shaft that's best suited to your club head speed, tempo, delivery and launch angle. For example, for a swing speed of 80 mph with a seven iron, we would generally be looking at a regular steel shaft, of a weight best suited to your tempo. Or for female golfers we often go for graphite shafts because they tend to be lighter weight.
Head design comes next and is determined by your handicap and strike pattern. For example, if you've got a higher handicap you might benefit from a cavity style head as this will help you gain more distance and will be more forgiving with off centred strikes. We'll get you hitting again at this point and have you try lots of different styles of heads out.
Once we're all happy with the head and shaft combination, then we'll move on to fine tuning the lie angle and length of shaft, to optimise your strike, launch and curvature. We'll ask you to hit some shots with lie angle tape on the sole and face of the club, using a lie angle board to give us a reading of how the club is lying at impact and where your ball position sits on your club face.
Lastly, we'll look at grip type and thickness. There's a wide range of grip styles and a lot of it comes down to your preference on feel and colour. However, we do need to ensure that the thickness is suited to the size of your hand and length of your fingers because a wrongly sized grip can affect your strike.
What will I get out of my fitting?
By the end of your fitting you'll know exactly what clubs you should have in your bag, to get you playing to the best of your ability. From here you can purchase your dream clubs straight away from our pro shop (where we price match if possible) or we can do you a quote for your new club set. It's also worth thinking about trading in your old clubs to save you some money on your new set (yes, we do that!).
How do I book a custom fitting?
You can call us on 0113 288 6000, drop us an email or pop into the pro shop to book your fitting. Our pros are available 7 days a week, at whatever time suits you within our usual opening hours (9am – 8pm).
Our pros recommend having your clubs fitted at least every four or five years depending on how quickly your game is improving. Our custom fitting service is completely free with no pressure to buy, but if you are ready to invest, we offer 0% finance off kit purchased in our pro shop.