Improve your golf swing with TPI
Date published

Categories

Tips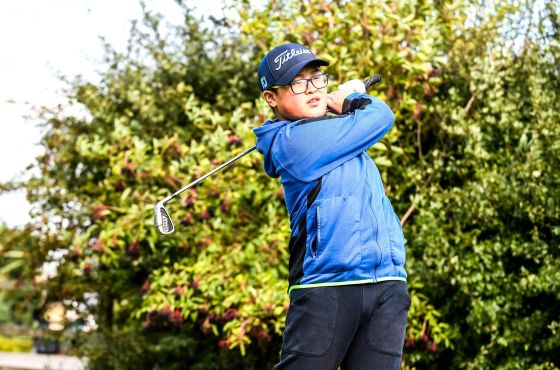 Are you constantly striving to add a few extra yards to your drive? Well we've got just the ticket to help you achieve your goal.
Find out more about TPI (Titleist Performance Institute) and how our latest service could work wonders for you.
What is TPI?
Amazingly not many golfers have heard of TPI but once they've discovered it, their playing is transformed. Essentially, TPI is a body of industry experts whose aim is to increase your awareness of the connection between your body and your golf swing. The objective is to understand what's unique about the way your body functions and to use that knowledge to devise a bespoke plan to lead you to your most efficient golf swing.
How TPI could help you
More than ever before, golfers are being acknowledged as athletes and just as athletes look after their fitness, golfers should too. But this isn't about going to the gym every day, it's more about understanding the limitations of your body and working around them.
A TPI assessment will help you find what's causing any pain you might feel when you play. Equally, you might not experience any pain while you're on the course, you might just want to up your game. Our new golf fitness program, which includes a TPI screening, can help you discover solutions to accomplish either of these goals.
Here's what the new program involves:
A TPI screening
Jack, our TPI level 2 qualified PGA Pro (phew, that's a lot of letters!), will assist you in completing a series of 16 tests which make up the TPI screening. The tests are simply a set of exercises and movements which will help Jack to assess your balance, rotation, flexibility and biomechanics. The most strenuous exercise will be a squat – you get the gist, it's not really an energetic thing.
You'll leave the TPI assessment with a bespoke plan, made up of your results and swing improvement solutions (such as drills to practise), which you can take away to work on with your coach or by yourself.
A sports massage
You'll also have the option to see Sarah, our in house sports masseuse. Sarah can work on any issues that have been identified with your joints or muscles, during your screening. And she'll help you work out how these problem areas occurred and help you put a stop to them by recommending exercises.
"It's important to understand your body. Anyone can do this, it's not just for aspiring pros or those experiencing an issue." – Jack, PGA Pro
Tried and tested by our very own Ellie and Nigel
Of course, we'd never ask you to do something that we haven't done ourselves so Ellie and Nigel got in on the action to see how TPI could change their playing for the better. Here's what they thought:
Ellie:
"The results from the TPI screening definitely highlighted some weak areas in my fitness which, as Jack explained, link directly to a few of my swing faults that I've been working on. With the help of Sarah I'll be working hard over the summer to get back to full fitness and I can't wait to see the results."
Nigel:
"The TPI check was really valuable. It showed my strengths and weaknesses, and gave me a goal to work towards, which will help me to gain a few extra yards."
TPI was created to help some of the top golfers around the world. Currently, 25 of the top 30 have been coached by a TPI qualified expert. So why not discover their secret? Sessions cost £70 for 1.5 hours and are available on demand. Get in touch, here