Leeds Golf Centre hosts PGA Super 60's Championship
Date published

Categories

News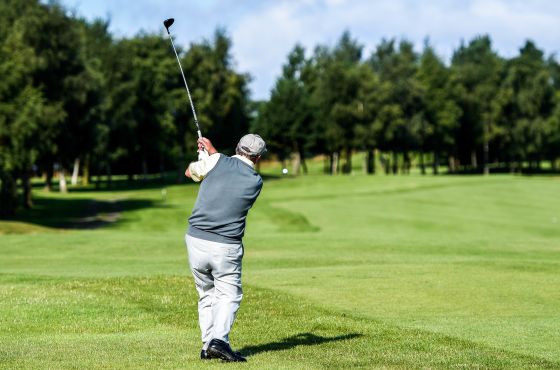 From Tuesday 6th – Thursday 8th August we hosted the PGA Super 60's Championship for the first time.
Having been approached by the PGA last year after our hugely successful Senior Masters Tournament, and following four months of preparations, we couldn't be more pleased with how our time hosting went. Find out what happened…
About the PGA Super 60's
The championship gives the PGA's members of 60 and above a chance not only to continue competing but also to catch up with friends and opponents from over the years. Since its launch in 1994 the Pro Am tournament has gone from strength to strength, attracting some of the best talent in the game.
Day 1: the practise round
The players spent Tuesday 6th getting some practise in and familiarising themselves with our Wike Ridge course, which our Greenkeepers had worked extremely hard to prepare for the event. It took a week of daily stimping to ensure a consistent greens speed and in that time the greens were given a very smart double freaky cut too.
We were thrilled to receive some huge compliments on condition of the course during the championship from the likes of David Edwards:
…and PGA Pro Ken Findlater, who said:
"The course was in outstanding condition and obviously a lot of work…has gone in to make it what it is today. I have played 18 different courses both in the UK and abroad this year and I have to say that Wike's condition was up there near the very top."
Enough about our glorious greens, let's move on to the big names that graced them during the event. It was great to welcome a bunch of previous European Tour Pros including: Hayden Selby-Green, Paul Carrigil, George Ryall and Bob Cameron.
Day 2 & 3: the competition
With 74 pairs teeing off from 7.30am on both days, it was all to play for, especially since defending champions Glyn Krause and Richard Coleman were amongst the competitors. Although the wind kept the players on their toes at times, the weather was generally fair, which added to the relaxed and friendly atmosphere of the event.
Highlights over the two days included an impressive run of three birdies and one eagle on holes 9, 10, 11 and 12 from Murray White, and a flabbergasting six birdies in a row on holes 12, 13, 14, 15, 16 and 17 from Hayden Selby-Green.
We caught up with Tournament Director, Jeremy Baynham, during the event who said that the pros were enjoying the course due to its great set up, adding that the PGA were also very impressed with the set up. Jeremy passed on that the players had said our greens were tricky (in a good way!) as we've got some challenging slopes and there's plenty of water hazards to mix things up too.
Jeremy also confirmed that the appetite for senior golf is even stronger now than it was back in 1994, when the tournament was created. And this has lead the PGA to set up a Superb 70's prize for this year's tournament too – 13 of the teams were competing for this title as well as the Super 60's.
The Prizes
The Super 60's is absolutely all about the taking part but of course we'd like to take the chance to congratulate the prize winners:
Super 60's Champions: Stephen Bennett (Pro) and Eric Davies (Am)
Super 60's Runners Up: Paul Carrigill (Pro) and David McCarthy (Am)
Super 60's 3rd Place: Shaun Ball (Pro) and David Peters (Am)
Superb 70's Champions: Tom Melville (Pro) and Jim Kinloch (Am)
Best Team Score Day 1: Tony Price (Pro) and Derek Sanders (Am) with 64 (8 under par)
Best Team Score Day 2: Graham Cart (Pro) and Nigel Mills (Am) with 64 (8 under par)
Nearest The Pin Day 1 (Amateurs only): Peter Kinloch on the 13th hole
Nearest The Pin Day 2 (Amateurs only): Robbie Hubbard on the 5th hole
What a truly special event from the PGA and a fantastic few days we had! A big thank you to all of our members who helped out taking scores and ball spotting during the event – we couldn't have done it without you.