Leeds Golf Centre hosts the Senior Masters Tournament 2019
Date published

Categories

Competitions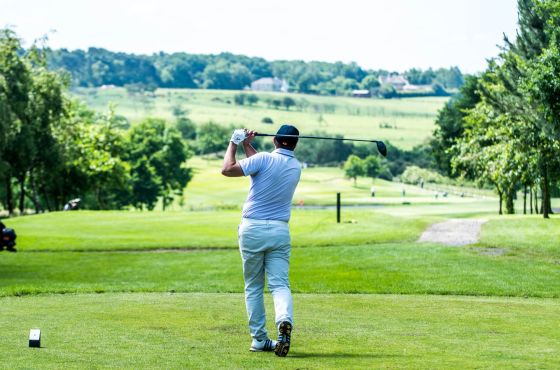 Our biggest event of the year – let's take a look at what happened during the Senior Masters tournament 2019.
The prestigious Senior Masters gives senior professional golfers the opportunity to not only play a great game of competitive golf in a full field, but to have fun and catch up with old and new friends alike too. The competition was set up by our very own Operations Manager, Nigel Sweet, to help promote the senior professional golf circuit outside of the European Senior Tour.
The event was a roaring success – even if the conditions weren't great!
The rain and drizzle didn't dampen David Bunton's spirit or game, however, as he walked away with the first-place trophy. David finished an impressive nine-under-par, scoring rounds of 67 or 68 to beat out his 50 opponents. Huge congratulations to David!
Taking the runner up spot this year was Mark Ashworth, who finished seven-under-par, and in third place finishing four-under-par stood Craig Ronald, Michael Watson and last year's champion David Shacklady.
We'd like to offer a huge well done to the joint sixth-place contestants that finished three-under-par: Mark Wharton, Peter Scott, Richard O'Hanlon, Shaun Ball and Andrew George, as well as Gary Brown who finished in 11th place. We were really pleased to see that the Senior Masters has plenty of international appeal too, as America's Tim Thelen and Spain's Jose Romero were also competing.
Nigel Sweet says: "Despite not always having the best conditions, we've once again witnessed some spectacular golf at The Senior Masters, with high-spirited performances from all the players. Congratulations to David for his winning display.
"We're proud to have brought this internationally renowned tournament to Yorkshire soil for a third consecutive year, and we look forward to continuing to build upon its success in the following years – further establishing its reputation as one of this country's, if not Europe's, top senior pro events."
We'd like to further extend our thanks to all of the players who came out and took part, as well as everyone who came to support them. We hope the event will be an even bigger success next year!