Here's What Happened At The Senior Masters Tournament 2018
Date published

Categories

News, Competitions, Courses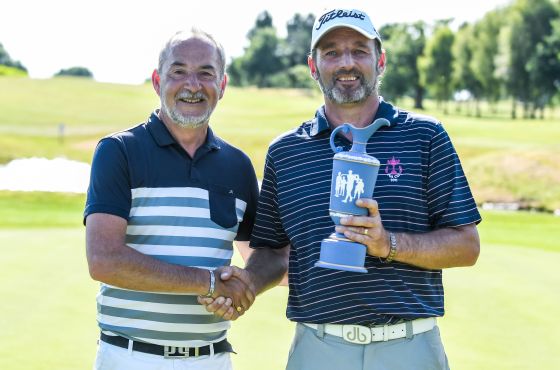 On 26th July, Leeds Golf Centre welcomed the second Senior Masters Tournament to the Club and what a 3 days it was! Golfing pros from around the country descended on Leeds with eager amateurs waiting to play a round with their idols. If you missed out on the action, or just want to catch up on what happened over the 3 days, here's a roundup of what happened at the Senior Masters Tournament at Leeds Golf Centre 2018.
ProAm Day
The first day of the Senior Masters Tournament started with the ProAm Day. Each team of 4 included one pro so amateurs had the chance to chat golf and learn top tips from the very best.
Players including the former Ryder Cup golfer Philip Walton, Paul Affleck and Andrew Sherborne – previous European Tour winners – and Brendan McGovern were some of the players taking the lead of the ProAm teams.
There were a few celebrities involved as well – David Seaman the ex-Arsenal and England goalkeeper, Lee Sharpe who used to play for Leeds United, and former Manchester United full-back Lee Martin and Clayton Blackmore.
The atmosphere started off quite relaxed but as the weather started heating up – it reached 29c on the day – so did the competition. The action began at 9am with players practising their putting and short game before their round. With players such as David Shacklady and Paul Streeter taking part, everyone needed to be on their best form for their chance to win!
Every ten minutes a fresh team teed off – first, it was Jim Pape and his team, then Mark Spooner, Andrew Sherbourne, Jason Proctor and Mike Lord. Towards the end of the pack came Mark Wharton, Dave Padgett, Terry Bunyan, Mike Gallagher and Steve McNally – all hoping to lead their teams to victory.
The heat obviously had a huge effect but it didn't dampen spirits. Players were on good form at Halfway House singing and chatting as they waited for a bacon butty and a refreshing drink – it was Fanta Lemon for some and a crisp bottle of beer for others! As they were taking a break, some players were even compared the course to that of the Millennium Course in Vilamoura, Portugal. We're certain the sunshine had a lot to do with this comparison although the course was in very good shape on ProAm Day!
After Halfway House though, that's when the competition really started going. Teams had their photos taken and it was time to take on the second half of the course. There were great shots from some of the players – one even hitting the ball clear over Halfway House to escape a pickle he'd got himself into!
At the end of the day though, there could only be one winner and that winner was David Shacklady with a ten-under-par 62 and the winning team was Harrogate Taxis with a score of 91! Congratulations to the winners on the ProAm day and we hope you all had a great day!
Day 2
Senior Masters Tour
With David Shacklady and Paul Streeter being tipped as favourites to win the Senior Masters Tour, the second day of the tournament got off to a competitive start. Brendan McGovern, Philip Walton, Jose Romero, John King and Mark Walton were also strong contenders so spectators were guaranteed a good day of golf. Even the dogs came to check out what was happening!
The second day didn't come without its challenges though. The unfamiliar and unpredictable wind made it difficult for players on many holes although they were given some respite on the 1st, 2nd and 4th holes as the wind was making shots a lot easier than usual. The course was still in good form though with the ground being firm and quick.
As predicted, David Shacklady played well on day two with 2-under-par-70. Although he dropped a shot at the last hole he had a great birdie at 17.
Jimmy Murphy and Brendan McGoven both birdied the 1st and were on great form throughout the day, and Mark Spooner and Mark Wharton were also on 70 by the end of the course. It's all to play for on the last day! Leading the field after day 2 was Paul Streeter on 4-under-par-68.
Day 3
The weather was still great on the last day of the Senior Masters Tour and it was all to play for. The atmosphere was again relaxed but day 3 was the competition decider so it was key to be focused on this hot day.
Some star shots of the day included a hole-in-one from James Murphy. He shot a stunner at the 16th hole which contributed to his tied 8th place with Jose Romero.
There could only be one winner of the whole tournament though and that was David Shacklady with an 8-under-par. He was closely followed by Brendan McGoven in 2nd with a 7-under-par, and Paul Streeter coming in 3rd with 5-under-par.
Craig Ronald commented on Twitter that his 5th place was something to build on but his putting game went well.
Nigel Sweet, Operations Manager at Leeds Golf Centre said "We're thrilled to be hosting this incredible tournament for the second year running."
It was a great 3-day event and we can only hope for the same again next year! Thank you to everyone that took part and congratulations to all the winners!