Celebrating the golf stars of tomorrow: This year's junior achievements
Date published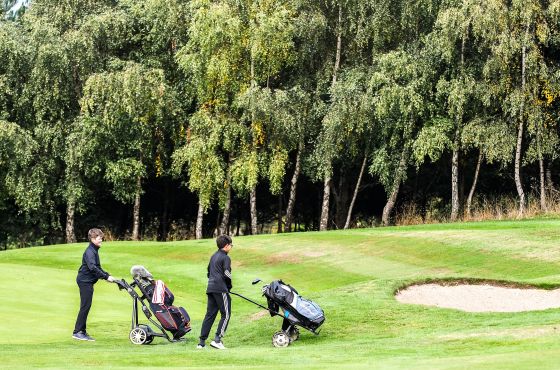 When it comes to golf, you're never too young to start. Our junior team have gone from strength to strength in 2019 with some incredible results from some future stars in the making. Leeds Golf Centre PGA Pro Ellie Robinson shares the big news from our juniors, including some exciting wins and Leeds Golf Centre firsts…
It's been a brilliant year for our juniors, with our Junior 1st team being promoted from Division 2 to Division 1. Wike Ridge Juniors have never been in Division 1 in the entire history of the Leeds and District archives, so that's an amazing achievement for the team.
And an even bigger achievement is winning the league by a whole 13 points – that means we were undefeated for the entire 2019 season!
The team was captained by Maclain Simpson, who showed great leadership and commitment, and Maclain will be continuing his captaincy role into the 2020 season. Player of the Year was awarded to Teddy Semple, who won six of his seven matches for the season, which is just incredible. The boys all showed great determination and passion during all matches, some of which were played in very testing conditions.
Outside of the junior team performances, our juniors have had great success in both club competitions and external tournaments. Notable mentions are:
• Tom Tindell, who won The Buck Rabbits Trophy and the President's Trophy (both of which were indigo medals!)
• Seth Walker, who won The Vic Cross Trophy
• Maclain Simpson, who won the Junior Order of Merit, the Springhouse Cup
• Amaan Iqbal, who won the Captain's Day Junior Trophy
• Teddy Semple, who won Junior Player of the Year
• Rory Cobb, who won the Lytham St. Anne's Junior Open, which helped see his handicap reduce greatly throughout the 2019 season from 27 to 16
The 2019 season also saw our squad of 10 junior girls gain their full playing handicaps and all of them have all made reductions. They also competed in their first Yorkshire girls golf event at Horsforth. Our Leeds Golf Centre girls made up more than 20 per cent of the full playing field, something which is unheard of from one golf club, and something that makes me really proud. Alongside this, the girls have regularly competed in monthly ladies' competitions at Leeds Golf Centre and all are making some great progress with their game.
And to show what an impact our girls are having, Tilly Ackland, one of our up and coming junior girl golfers, won the Leeds Golf Centre Junior open – the first time a girl has lifted the trophy.
Joe Turner and Teddy Semple have gained a place in the Yorkshire U15s training squads, representing Leeds Golf Centre.
And we have expanded the junior training program introducing six new graduates to training sessions, bringing our total up to 38! These juniors attend weekly training sessions alongside having their individual lessons.
Can't wait to see what these guys achieve next season!
Got a budding golfer in the family? Drop us a line at info@leedsgolfcentre.com or give us a call on 0113 288 6000 to find out more about junior golf at Leeds Golf Centre.