Junior Golf Tips
Date published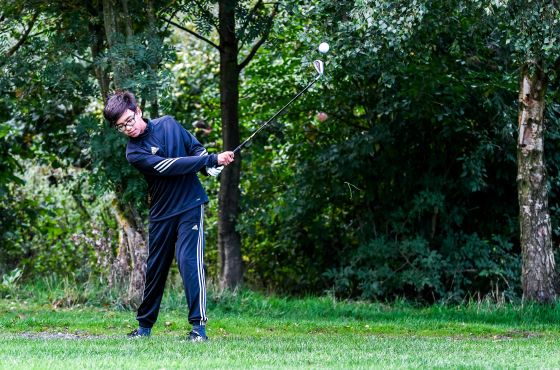 Want to make golfing a family affair? It's never too early to bring the kids along to Leeds Golf Centre. From afternoons at the driving range to fun coaching sessions with a group of mates, there are plenty of ways to nurture a lifelong love of golf.
Here are our PGA Professional and junior team coach Ellie Robinson's three top tips for getting your kids started with golf. It's easier than you might think…
#1. Just start
Really, just bring them along. If your child wants to give golf a go, you don't need to spend a fortune on kit. At Leeds Golf Centre, we make starting playing as easy as possible and we're happy to help your kids find out whether golf's the sport for them.
The easiest way to test the water is with a family trip to the driving range. There's no age restriction and you can play in all weathers. You don't need any equipment – we can lend you children's equipment until they decide it's something they want to pursue.
If they're keen to get out on to the course, we also provide one-hour group lessons with our PGA professionals seven days a week, covering all the basics of short and long games. Again, all equipment is provided so there's no need to shell out for their own kit until they're completely sure it's for them.
#2. Keep them focused
Children learn well in a fun environment but they need something to aim for. For example, if you're bringing them to the driving range, I'd suggest not letting them loose with too many balls – instead grab a basket of 50 and let them take their time, and you'll hopefully see the quality of their game improve.
It's really easy to make a driving range session fun and competitive, using our Toptracer technology to bring their love of gaming into the great outdoors. They can play virtual golf courses on screen, play target games to win points and compete against each other – and you – to give them something to aim for. I always find challenges that involve chocolate work a treat!
#3. Make it social
Learning's loads more fun when you do it with friends, and we see kids who take part in our group sessions coming on much quicker than if they learn on their own. They're able to meet new people their age and interact through a hobby that's normally a solo sport, plus they pick up tips from their peers they might not get playing with adults and make friends for life.
Our juniors group sessions involve lots of focus on technique but we set them fun challenges and play interesting games so they improve without feeling like they're in a classroom. We also find that kids learn better in coaching sessions than they do if mum or dad tries to teach them, plus they'll start their golf game with a clean slate rather than picking up your bad habits (don't worry, we can give you some coaching too!)
Sound like golf could be something your child could get into? Drop us a line at info@leedsgolfcentre.com, give us a call on 0113 288 6000, or just pop down for a taster session and see what they think.