Footgolf: Explained!
Date published

Categories

Courses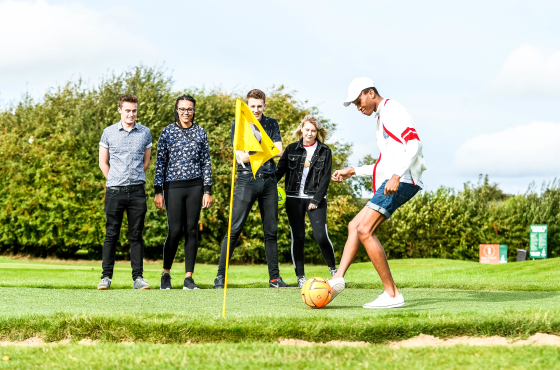 Footgolf has been around for a few years but it is still surprising that many people are not even aware of the sport and how to play it. If you are one of these people, then don't worry as we are here to explain to you!
Footgolf is an ideal and harmonious fusion of two powerful sports – football and golf. All you have to do is kick the ball into the large holes on a golf course.
Footgolf is officially defined as 'a game played on a golf course in which a football is kicked into a series of large holes, the object being to complete the course using the fewest possible shots'.
Footgolf is played much like a traditional game of golf; however, the aim is to kick a football as many times as it takes to get it into the enlarged hole.
Footgolf is a game that combines precision and power. To that end, it can be enjoyed as much competitively as it can for a fun kick about.
Played right in the heart of our tremendous The Oaks golf course – enjoy playing footgolf with 6 specially designed holes ranging from 39 to 90 yards.
What are the rules of footgolf?
You may follow these really useful rules for footgolf designed by our master course designers to help upgrade your game:
(1) To tee off, you may kick your ball from a position up to two yards behind the tee markers at the designated teeing area. Make sure your kick will not interfere with other players or golfers.
(2) Wait for the ball to come to a complete stop before your next kick
(3) Play the ball as it lies, you cannot touch or accommodate it.
When another player is to play do not stand directly behind them or in line with the hole as this may cause a distraction.
(4) All ditches, water hazards, out of bounds, unplayable lie and lost ball – drop the ball within 2 steps of the nearest point back on the course – One Shot Penalty
(5) It should be noted that Footgolf courses often share the fairways on golf courses, so it is important to be courteous towards golfers. Although, the Footgolf holes are away from the golf holes and have their own greens, try not to kick the ball when other golfers are playing their round.
(6) Kicks can only be made with these parts of the leg – internal side, external side, leg tip, rolling with leg sole, and kicking with heel
Who can play footgolf?
At Leeds Golf Centre we're working to make the game we love accessible to all. We want to get rid of those old school golf club values – the out-dated rules, the dress codes, the snobbery. Our new kind of golf is totally inclusive, for all ages, genders, cultures, social backgrounds and abilities.
Footgolf is a simple game, and therefore, it is a delightful and entertaining activity for families to play. On top of this, footgolf is ideal for people of all ages which means, playing this game can be a perfect way to strengthen your bond with your family. Our experienced instructors love to share their enthusiasm to kids, encouraging them to play and practise their abilities in a friendly and serene environment.
Not only is it perfect for children and families but it is a really fun activity to do in groups so it makes the perfect activity for team building or for hen and stag parties.
From planning your ultimate stag parties to grabbing delicious food and drinks from our bar & grill – Leeds Golf Club is the destination to choose. With our superb under-one-roof facilities, specialist organisational abilities and attention to detail, investing in a golf event with us will definitely be a worthwhile experience for you to remember for the days to come.
How to book:
You must pre-book on the website, select Book Online in the top right of the website, select The Oaks course and you'll find the availability for footgolf.