Senior Masters 2023
Date published

Categories

Competitions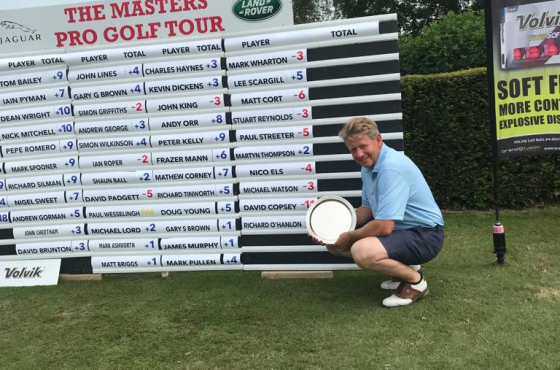 Senior Masters was a huge success last week at Leeds Golf Centre

The three day event kicked off with a successful ProAm event held at Leeds Golf Centre on Wednesday 21st June. Teams of three joined up with a Pro to play the Wike Ridge course.

Numerous competitions took place throughout the day and the guys raised over £500 for the Parklane Foundation charities of the year; Alzheimer's Society, Dementia UK and Leeds Hospitals Charity.

The main event took us to Moortown Golf Club on Thursday 22nd and the final day of the competition returned to Leeds Golf Centre on Friday 23rd June.

Huge congratulations to the Senior Masters Champion David Copsey who scooped the number one spot.

Final leaderboard

1st DAVID COPSEY 67 66 133
2nd MATT CORT 70 67 137
T3rd DAVID PADGETT 73 65 138
PAUL STREETER 70 68 138
5th NICO ELS 68 71 139
T6th MICHAEL WATSON 68 72 140
JOHN KING 73 67 140
MARK WHARTON 71 69 140
T9th IAN ROPER 73 68 141
SIMON GRIFFITHS 75 66 141
RICHARD O'HANLON 66 75 141
T12th STUART REYNOLDS 70 72 142
13th MIKE LORD 73 70 143
T14th JIMMY MURPHY 72 72 144
MATT BRIGGS 73 71 144
PAUL WESSELINGH 73 71 144
MARK ASHWORTH 72 72 144
T 18th SIMON WILKINSON 74 71 145
MARTYN THOMPSON 70 75 145
CHARLES HAYNES 73 73 146
SHAUN BALL 73 73 146
DAVID BRUNTON 75 71 146
JON CHEETHAM 75 71 146
KEVIN DICKENS 73 73 146
MARK PULLAN 72 75 147
GARY G BROWN 75 72 147
JOHN LINES 75 72 147
DOUG YOUNG 72 76 148
RICHARD TINWORTH 72 76 148
LEE SCARGILL 71 77 148
ANDY GORMAN 75 73 148
GARY S BROWN 72 77 149
ANDREW GEORGE 74 75 149
FRASER MANN 73 76 149
MATT CORNEY 72 78 150
IAIN PYMAN 79 71 150
NIGEL SWEET 75 75 151
ANDY ORR 73 78 151
PETER KELLY 73 79 152
RICHARD SILMAN 77 75 152
PEPE ROMERO 79 73 152
MARK SPOONER 77 75 152
DEAN WRIGHT (A) 79 74 153
NICK MITCHELL 78 75 153
GARY POTTER 81 74 155
STUART HILL 82 74 156
CLAYTON BLACKMORE 80 77 157
ROB HUNTER 84 76 160
DARREN BOYCE 80 81 161
MARSHALL NEWMAN (A) 81 82 163
MIKE FIELD 88 81 169
JOHN WATERS (A) 90 85 175
DAVID COLLINGS NR 80 NR
TOM BAILEY 80 WD
MARK JAMES 75 WD