Don't let winter stop you playing
Date published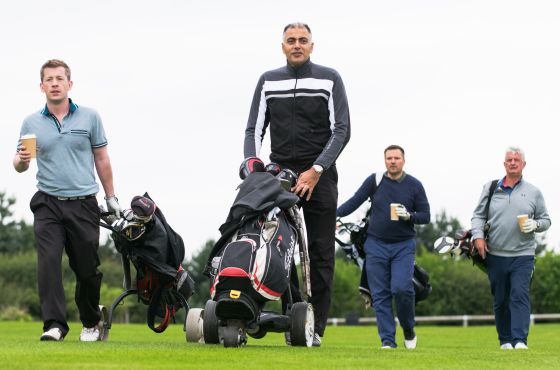 You've upped your golf game over the summer and don't want to lose momentum over winter. But how do you keep your practice on point when the weather takes a turn for the worse?
At Leeds Golf Centre, we give you lots of ways to keep playing no matter what the temperature, because when you're passionate about your game, you want to keep that going all year round. You can still play 18-holes, plus we've got plenty of options if you're short on time or want to work on specific parts of your game.
Still think it's not possible? Here are five good reasons to keep playing through winter.
#1. You don't need to buy new gear
Ever heard the phrase there's no such thing as bad weather, just the wrong clothes? That's definitely the case for winter golfing. When the temperature plummets, you might be tempted to invest in new outerwear, but that can really restrict your movement. So go for lots of layers instead, in thin, natural fabrics, to keep the warmth in while still giving you freedom to move. Don't forget good quality lightweight waterproofs to top it all off on rainy days.
#2. You can stay undercover and play 'til late
If you don't fancy a full round in the cold, why not work on your technique on the driving range? It's floodlit so you can keep practicing into the evening, plus it's covered so you're not fully exposed to the elements. From driving to putting, you can work on every element of your game without leaving the comfort of the clubhouse. Plus you get the benefit of our Toptracer technology – track your longest drive, monitor your technique or play a virtual game on one of the world's top courses. Just make sure you choose somewhere sunny…
#3. You can sign up for high tech coaching
Leeds Golf Centre has a team of friendly, experienced pro coaches ready to help you with every element of your game. We also have state-of-the-art TrackMan performance enhancing software, to help you and your coach work on the finer details of club delivery, launch, ball flight and distance. It keeps track of your data as you train, to show you where you're improving and where you still need work, so you're heading out on the course in Spring at the top of your game. And the best thing? It's all indoors.
#4. You can save some money
We've got loads of great offers on over winter, from our Winter Warmer – a cuppa, breakfast butty, full round and bucket of balls, plus a hot meal from £28pp* to our special winter membership rates – choose from either five months at £299 or 17 months for £1,100. That works out at just £60 per month for a five-month deal, so you can really make the most of what's traditionally a much quieter time on the course.
Want to know more about winter golfing or fancy booking in for a round or some coaching? Drop us a line at info@leedsgolfcentre.com or give us a call on 0113 288 6000.
*Price for a weekday – weekend Winter Warmer £32pp.