5 ways to improve your golf in lockdown
Date published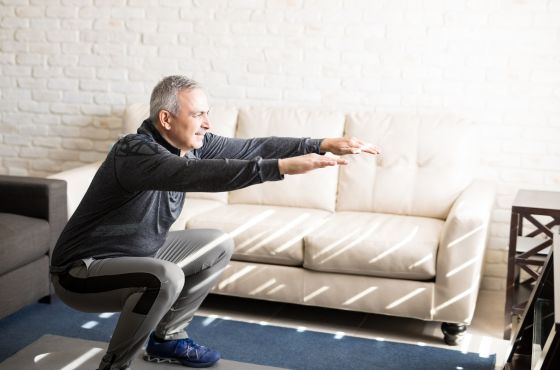 Well, as we enter our third lockdown, and, sadly with many of you trying to work from home, while home schooling kids, some of you are heroically working in healthcare, and essential services keeping us all safe and fed, this promises to be the toughest lockdown period for a lot of us.


That being said, on the other side of this lockdown, there is huge hope that a full, and thoroughly enjoyable golf season lies ahead. Whatever level you're at, this is an exciting prospect to look forward to. So, looking to this, I guess the question is, are you going to do some work in lockdown to help you stay fresh (or even improve) with the golf? Or are the clubs going firmly in the shed until we're allowed out of hibernation?


There is no correct answer to this question, and the answer should really lie in what will make you feel good? For some, the prospect of doing some drills, looking at some golf specific fitness, having a good read of some sport psychology books would be a great and enjoyable way to spend your time. However, for some of you, the idea of these things, might not appeal at all. In my opinion, in a time that will be so mentally tough for so many, we need to be doing the things that will make us feel good. Don't measure and compare yourself to what others are doing, and above all else, be sure that you make any golf work in the lockdown fun.


What things can I be doing that can help my golf?
I know some of you have got enough space in garages / gardens to set up golf nets. If you can that's great, and by all means, keep grafting on those swings! Sadly, it will still get very boring hitting balls 6 feet into a net. So here is a list of things that all of you can be doing that will benefit your golf.


1.Yoga – Yes that's right, who'd have thought improving your strength, stability and mobility would help you perform sporting movements, more successfully ay? I will be doing Adriene's 30-day yoga challenge, it's free on youtube, she's got a cute dog that always interferes, and they average about 25 minutes each. I'll probably do them every other day.


2. Putt on the carpet – It's the oldest trick in the book, but create some putting games that you can do on the carpet when you get bored. I would advise making it scorable, either with someone else in the house, or so that you can try and beat your PB next time you do it.


3. Read (I hate reading so I always listen to Audio Books) books by Bob Rotella, Karl Morris, Dave Alred, there are so many more out there too. But these are you 'mainstream' guys. All of these guys specialise in sports psychology and performing under pressure, and all have some really interesting things to think about. I'm sure when you read these books, they will highlight some scenarios where you'll put your hand up and say "GUILTY"


4. "Golf Fitness" – Golf fitness isn't really a thing. If you are a very athletic, strong, supple person, then you've got everything you need to be physically able to play golf at the highest level. My personal take on club level golfers, is, "Can you do some simple body weight circuit training successfully?" This would be along the lines of Push Ups / Lunges / Plank / side plank / Squats / Squat jumps / Russian twists etc. If you are in pain or unable to perform any of these exercises correctly or at all, then you are not going to be able to play golf to the best if your ability. There are loads of great ones on youtube, some are harder than others, so just be aware of where you are at fitness level wise before you start trying handstand press-ups????. You could even join in with the kids / grandkids Joe Wicks PE classes.


5. Play Other Sports – Whether it's kicking a football, or hitting a tennis ball against the garage, making athletic movements, and maintaining activity that maintains and develops co-ordination can only have a positive effect on your golf, or at least help prevent too much 'rust' developing over lockdown.
There's so much you can do to help with your golf while in lockdown, but like I say, make sure looking after your golf is enjoyable, and that it's making you feel better than you would have without doing it.


If the clubs are away, and you're planning to dust them off after lockdown, absolutely fair play. We wish you all the very best for the next few weeks! In the meantime, all of our coaches are working hard behind the scenes, doing some online learning, developing our various programs that we run for kids and adults alike, recording some videos for you guys for our social media challenges, and for those of you with space to hit at home, we've got options for you for some online coaching.


Stay safe folks, stay sharp, and let's cross those fingers and toes for the golf season ahead