Five Reasons Why Golf is the Perfect Socially Distanced Sport we NEED Right now
Date published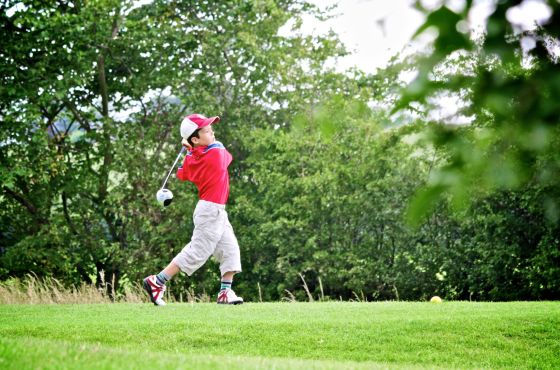 This article highlights five reasons why golf is THE PERFECT socially distanced sport to pick up when the pandemic prevents us from participating in other sports.
1 Outside Benefits
Research has shown that coronavirus transmission mostly occurs in the home and inside. As golf is played out in the open, on the green of the golf course the risk of transmission is very low.
Not only this, there are plenty of benefits to exercising outside besides giving yourself a change of scenery. Exercising outside has been proven to boost your immune system, energy levels and to give a good dose of vitamin D.
Whilst you are enjoying the quiet of the golf course, steadying your focus on your swing, you may be surprised to find that your focus at work has improved! Studies show that walking in nature helps restore our focus.
2 Maintaining Social Distance
Golf etiquette tells us not to stand behind someone as they are putting, so keeping two metres apart is already the standard for golfers. Which is good practice for 2021 because the closer you get to a person with COVID-19 the higher the chances of transmission from viral particles become. However, by maintaining a two-metre distance between players we can eliminate this risk without damaging the integrity of the game.
Whilst out on a spacious golf course, like Leeds Golf Centre, there is always enough room to stay two-metres apart and limit the spread of the virus – even when allowing another group to play through playing footgolf with some friends or honing your skills on the driving range.
At Leeds Golf Centre we ensure the safety of our patrons outside on the course, on the driving range AND in the clubhouse by having separated seating areas for single-household parties. Seating areas are washed down after every customer and can be booked in advance. The staff at our bar and grill take every precaution to ensure that patrons are safe and happy.
3 Clean Equipment
Golf is by non-contact sport. You never need to come into close contact with your opponent or to touch their equipment. By simply sticking to your own golf clubs you eliminate the risk of transferring germs between you and your opponent. Or, if you don't own your own set of golf clubs you can hire clean, disinfected equipment provided by Leeds Golf Centre to use at the driving range or as a part of our popular golf lessons.
4 There is More Than Just Golf at The Golf Club!
If you are looking for something a bit different, like a crazy golf course but don't fancy playing indoors within close proximity to others at Junkyard Golf Leeds, then look no further than Leeds Golf Centre!
With the state of the art technology of Toptracer, as used on TV's biggest golf tournaments you can play a wide variety of games and challenges against your friends. There is a selection of virtual courses to choose from and you can even use it as a fun way to practice utilising the instant feedback on your shots.
For the football fans who miss playing in their five-a-side league why not set up a game of footgolf with your mates? Blending football skills with the game of golf you'll battle for bragging rights by booting balls into six specially designed holes in as few shots as possible.
5 Pick up and Play
What if golf isn't your main sport or if you've never even played before? Well, you needn't worry because anyone can enjoy a safe round of golf or footgolf before their main sport becomes available again.
You don't need to be a member at Leeds Golf Centre in order to play, everyone is welcome! There are Pay to Play [https://www.leedsgolfcentre.com/play/fees] options starting from £15 for juniors and member's guests. Plus Expert Tuition [https://www.leedsgolfcentre.com/learn/tuition] is available for players of all abilities from in-house PGA qualified instructors who have plenty of experience and have even coached pro golfers.
Article by Bruce Cousins