Your guide to the perfect society golf day!
Date published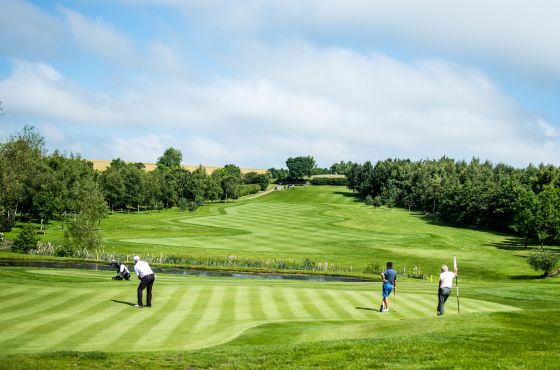 Events that set new standards!
Here at Leeds Golf Centre we pride ourselves on hosting society days that people will talk about fondly for years to come. It's not just our superb under-one-roof facilities that make this happen, it's our outstanding organisational skills and commitment to working hand in glove with you to deliver your perfect day. At Leeds Golf Centre you'll find two stunning courses, fabulous food and the warmest welcome. Choose from a day of exciting team building, Trick Shot entertainment, golf coaching and more! We can offer you a bespoke society day package based on your requests so each society day is tailored to you.
WHY CHOOSE LEEDS GOLF CENTRE FOR YOUR GOLF SOCIETY DAY?
As England Golf's Club of the Year in 2018, Leeds Golf Centre prides itself on being the home of modern golf and, with its state-of-the-art facilities, it's hard to argue. At Leeds Golf Centre we're committed to giving you a quality golf experience you'll want to repeat again and again. Created by master course designers, ours is a truly challenging and satisfying championship course, backed by state-of-the-art kit such as a Toptracer 19 bay driving range, digital swing analysis and a putt & balance lab. Our PGA pros are Leadbetter qualified too, to give you the most game-improving guidance and tips in the business.
The championship Wike Ridge Course, designed by Donald Steel, offers 18 dramatic holes set within stunning woodland. With bunkers galore and breathtaking water hazards, including a lake and fountain guarding the 18th green, Wike Ridge offers a complete golfing experience. It also boasts the impressively long 629-yard second hole, which is an exhilarating challenge.
The Oaks, meanwhile, is a distinctive par-3 course that features 12 delightful holes of varying length. With fewer hazards than Wike Ridge, it's a great choice for beginners and more experienced golfers looking to sharpen their iron play. We also offer a third course, which is specifically for Footgolf. With six holes ranging from 39-90 yards in length, it offers a fun alternative for non-golfers. Leeds Golf Centre is also home to the UK headquarters of the Leadbetter Golf Academy, offering the same world-class instruction, methods and expertise provided to many a major champion
Keep reading more for making your society day one to remember:
LOCATION, LOCATION, LOCATION
Picking the right location for a golf course game is definitely the right deal to get people together. Make sure that your travelling time to get to a place is probably 40-45 minutes max especially while arranging a day trip. In case you want to narrow down your search to discover some of the best golf courses near you, we suggest you use google maps to have your society member to get to the nearest courses around your area. To experience the ultimate joy of playing golf, our favourite pick is Leeds Golf Centre where – a breath of fresh air for all golf lovers. We are an exciting world of modern attractions like an indoor computerised golf simulator, putt and balance lab, floodlit covered driving ranges and that latest craze, footgolf.
GET AN IDEA OF THE COST FOR A SOCIETY DAY
You have finally picked up a spot for your perfect society day and you and your group member can't wait to get there already. But before you choose a spot, make sure that you have all the details of budgeting in hand because none of you wants to be hit in the pocket. Even if you have got the dates and players confirmed, checking for availability with the club is always worth the effort. And if you plan on going for a society day at Leeds Golf Centre then you are going to be spoilt for choice. Because at Leeds Golf Centre all the packages are tailored to suit any packages for any specific requirements that you may have.
PRACTICE FACILITIES
Picking up a golf course spot that also offers a full on practice facility is a win win situation. Most clubs do offer full driving range or practise nets so you and your guests can make use of the facilities at the club and make a full day of it. In the Driving Range at Leeds Golf Centre, you can practice freely and wholeheartedly in some of the best practice facilities in the region, including Europe's most advanced video assessment swing studios, a fully-covered 19-bay floodlit driving range and floodlit short game and putting areas.
PAYMENT OF GREEN FEES
Once you have decided on the venue and your members have confirmed their availability, it's a good idea to secure a reservation for your society day. Not only will this save you from last minute hassle but will also give you a chance to earn a bit of banter. If you are booked at Leeds Golf Centre, get ready for superb greens and manicured fairways, each is spectacular in its own way; and together, they cater for every type and ability of player.
ORGANISE A PRACTICE ROUND
Picking up a spot for your perfect society day is surely a lot of work. And while half of your work is already done, how about you go for a tour at the course you picked. Get yourself familiar with the place, introduce yourself with the staff and let them know if you have any changes you wish to make, or suggest ways to enhance your day. If you plan to go for a tour at Leeds Golf Centre, just know that you will always be greeted with a smiling and friendly face. Whether you are coming for a booking or simply exploring, we make sure that all your needs are met.
GET THERE EARLY
Have everything sorted and organised -pretty much a great way to start golfing! You can enjoy your game to the fullest if you prepare a running order start sheet showing the players' names, their selected groups and details of their tee times and the format for the day. The individual scorecards should also be written out in advance with the players' handicap details.
CELEBRATIONS AT WIKE RIDGE INN AT LEEDS GOLF CENTRE
As you put an end to your perfect society day, it's time that you enjoy a gracious and delicious meal for a perfect happy ending. With a light, airy ambience and relaxed atmosphere, and refreshing drink with friends on our sun-filled terrace, Leeds Golf Centre is the destination to choose. To cater your taste buds with the best of everything, choose your favourite pick from the delicious menu of classic British dishes created with the freshest locally sourced ingredients. You can also pick delicious eateries from refreshing salads, delicious wood-fired pizzas, traditional fish and chips and not forgetting, our renowned Sunday lunch.
LEEDS GOLF CENTRE SOCIETY PACKAGES
With our superlative under-one-roof facilities, specialist organisational abilities and attention to detail, investing in a golf event with us will definitely be a worthwhile experience for you to remember for the days to come.
And to give you the best experience not only in terms of services but also in terms of pricing. Our customised packages are tailored in a spectacular way. Not only will our packages will tailor to your requirements but will also suit any specific requirements that you may have.
Our Leeds Golf Centre packages will give you a clear idea of how convenient and easy to afford this can get.
HOW TO BOOK:
To discuss your golf society day requirements, please call 0113 288 6000 , email info@leedsgolfcentre.com or pop into the Pro Shop and speak to one of the team. Leeds Golf Centre, Shadwell, LS17 9JW