British Transplant Games Come to Leeds!
Date published

Categories

News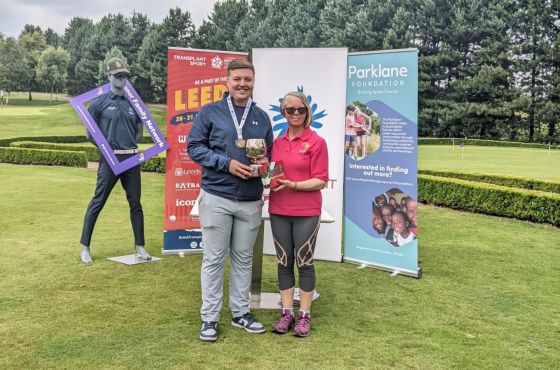 22 organisations will provide vital support to stage this summer's British Transplant Games in Leeds.
We're very proud to have hosted the British Transplant Games on Friday 29th July at Leeds Golf Centre. 72 players took to the Wike Ridge course and had an absolute blast! Some exceptional golf was witnessed and incredibly inspiring stories shared.
The inspirational golfers took to the course in drizzly conditions but in true British style, the sun shone to welcome the golfers back into the clubhouse.
Thank you to everyone who made the event such a HUGE success!
The Westfield Health British Transplant Games aims to demonstrate the benefits of transplantation, encouraging transplant patients to regain fitness, whilst increasing public awareness of the need for donation conversations so that loved ones are fully aware of your wishes.
Businesses and charities from across the UK are showing their support as the largest gathering of transplant recipients since 2019 is set to take place in Leeds.
Thousands of transplant patients, live donors, supporters, and guests came together in Leeds for the Westfield Health British Transplant Games, the flagship event of charity Transplant Sport and the biggest celebration of organ donation and the gift of life that the UK has seen since 2019.
22 organisations from across the UK came forward to show their support for the Games, generating over £400,000 and providing vital resources to ensure that the transplant community can reunite once again safely, after years of UK lockdowns and shielding.
The list of organisations includes long-term partners Westfield Health, Kidney Care UK Anthony Nolan, the Donor Family Network, icon creative design, Liquid Public Relations, organisers MLS and NHS Blood and Transplant.
Each year, these supporters help organisers grow the Games and aren't only providing physical and financial support but also an emotional commitment to help raise awareness of the life-saving benefits of transplantation and encourage families across the UK to share their organ donation wishes.
A raft of local partners also came forward to support; Leeds City Council and the University of Leeds provided accessible facilities to host the Games' sporting events and Leeds Hospitals Charity generously supported the annual Donor Run, the Games' only event that is open to all and takes place to celebrate the gift of life and say thank you to organ donors.
Parklane Foundation hosted the golf events at Leeds Golf Centre.
Roger Burnley, Chair of the British Transplant Games' Stakeholder Board, said: "There is a lot of hard work that goes into making the Games happen and we are so grateful to our sponsors, both new and longer-term, for their support.
"Not only is the Games a chance for the transplant community to reunite and celebrate together, but it's also a key opportunity to raise awareness of the challenges that we are facing around organ donation in this country and encourage those crucial conversations between families that means more people are benefitting from life-saving transplants.
"We can't wait to see all of our partners and supporters together in one place so we can say thank you in the best way we know how, by sharing in the magic of the Games."
For more information on the Westfield Health British Transplant Games and how you can get involved, visit: https://www.britishtransplantgames.co.uk/