Muslim women experience golf for first time in Leeds
Date published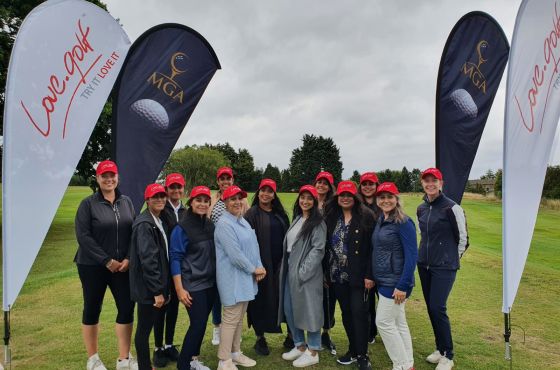 Muslim women experience golf for first time in Leeds
CLICK HERE TO WATCH THE HIGHTLIGHTS FROM THE DAY
• 40+ women attend taster experience hosted by Muslim Golf Association and love.golf
• Popularity sparks roll out of more events at award-winning Leeds Golf centre
• More than 1,000 Muslim women UK-wide sign up for empowering coaching and social outdoor experience
(August 3, 2022) Muslim women in Leeds were the latest to try their hand at golf last weekend in a UK-wide series of events that has attracted more than 1,000 new golfers.
Hosted by the Muslim Golf Association (MGA) and love.golf, the event on Saturday July 30 attracted a sell-out group of more than 40 women to Leeds Golf Centre, winner of England Golf's Club of the Year Award in 2018.
Two eager groups of participants were welcomed to the venue by MGA Founder, Amir Malik and love.golf Head Coach & Founder, Alastair Spink, before taking to the course and embracing the game for the very first time with the help of coaches Ellie Robinson and Linzi Dye.
"I've absolutely enjoyed today. It was my first experience and before today it's always been crazy golf. It was so different, being out in the open with all the fresh air. That was the best bit," said Farkhanda Hussain-Butt, from Dewsbury.
"It's not just about the sport though, it's about the people you're with and the fact it's a game you can develop over time. I shall certainly try to get back on the golf course again!"
Aleeza Effendi from Leeds added: "Seeing everyone improve over the day was really inspiring. It was competitive but good fun in our group. I'm definitely going to take up golf in future."
The MGA was founded in 2020 and is the world's first dedicated golfing platform that caters for the modern, professional, Muslim male and female golfer.
MGA Founder Amir Malik said: "We've seen women aged 15-70 delight in the experience over the past couple of months and I think what summed Leeds up was a lady who arrived, looked around and thought 'My daughter would love this'.
"She asked me if she could get her daughter, and when she returned she not only had one daughter, she had both her girls. They had the time of their lives and they've now signed up to play golf as a family.
"Seeing the effect these events are having always motivates us to come back and do it bigger and better next time, and we're excited about opening doors for new golfers. We can't wait to see where they go on their golf journey."
Leeds Golf Centre, supported by the Parklane Foundation, prides itself on a modern, open-door policy, designed to attract new players and look after them once they've started.
"We want to make Leeds Golf Centre the most inclusive golf club in the whole country," said Hanif Malik, Director of the Parklane Foundation.
"If we can use our salubrious surroundings to bring people together, and attract newcomers to golf, then it's a huge positive for the game of golf going forward."
love.golf, supported by Syngenta Golf, is an empowering group coaching experience for women which replaces traditional golf instruction with the freedom to explore, discover untapped potential and bond within a supportive, like-minded group.
Ellie Robinson, love.golf coach at Leeds Golf Centre, said: "It was a real pleasure today to see the women out on the course, giving them that experience of 'proper golf', and them high-fiving their way around.
"Hopefully we can build a community where they feel relaxed and comfortable, and encourage each other to take this sport on and go further with it."
Due to the popularity of the first MGA taster experience, another event is scheduled to take place on Saturday August 13, with more to follow.
ENDS
For more information, visit
• www.muslimgolfassociation.com/women
• www.love.golf
• www.leedsgolfcentre.com
• www.syngentagolf.com
CONTACTS
Michael Roberts, LANDMARK
michael@landmark-media.com
+ 44 (0)7724 772248
Muslim Golf Association
Amir Malik
amir@muslimgolfassociation.com
+44 (0)7593 930204
love.golf
Alastair Spink
alastair@love.golf
+44 (0)7748 653002
The Parklane Foundation
Hanif Malik
hanif@theparklanegroup.com
+44 (0)7540 255767
ABOUT MUSLIM GOLF ASSOCIATION
The Muslim Golf Association, founded in 2020 by Amir Malik, is the world's first dedicated golfing platform providing opportunities for modern, professional, Muslim men and women to enjoy golf in a safe, inclusive and non-intimidating environment.
ABOUT LOVE.GOLF
love.golf is an empowering group coaching experience for women which takes place out on the golf course, in a rewarding environment that gives you the freedom to explore a new skill, discover your potential and bond with a supportive group of like-minded women.
ABOUT SYNGENTA GOLF
For more than a decade, Syngenta has been investing in golf from the ground up. Our campaign, Growing Golf, is focused on the long-term business sustainability of golf. Since 2011 we have led the industry with ground-breaking market research – highlighting a $35 billion opportunity to increase the number of women and girls playing golf.
Syngenta is the leading supplier of innovative turf care solutions to golf courses in 43 countries. Every year, golf benefits from our annual $1.4 billion research and development programme.
We take a long-term view and invest in industries we believe in. And we believe in golf. Today, more than ever, Syngenta is committed to Growing Golf globally, by:
• Supporting diversity in golf.
• Increasing participation.
• Showcasing sustainable practices.
• Promoting golf's wellbeing benefits.
We will keep on investing – and keep Growing Golf.
ABOUT THE PARKLANE FOUNDATION
Over the years, the Parklane Foundation has grown and we've been very privileged to help those that are disadvantaged or less fortunate than ourselves.
We're proud of how we're able to provide people with a means to improve their lives in some way.
Our work is based on our desire to support local charities and beneficiaries where our business operates, but equally the importance of supporting those less privileged abroad.
We are particularly committed to using the resource and facilities at our disposal to raise the aspirations of children and young people, through targeted initiatives and working in partnership.
This is an exciting period for us as we develop the Foundation, and our future plans will enable us to be a charity with a strong reach into both local, national and international communities.
Hanif Malik OBE
Foundation Director