Top 5 Training Aids by our Resident Golf Coach Jack Carter
Date published

Categories

Tips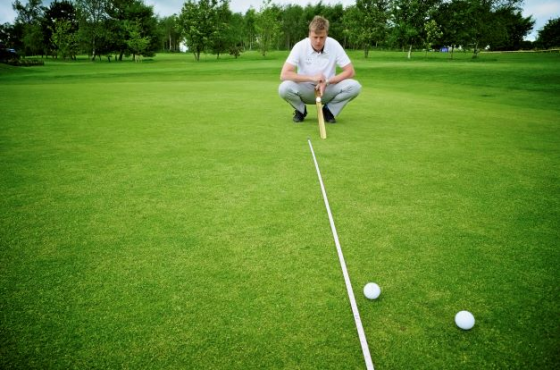 A question I often get asked as a Golf coach at Leeds Golf Centre is what training aids would be best to help your game.
Below is a list of our top 5 training aids to help you in your practice to improve those specific elements of your game.
ALIGNMENT STICKS

Alignment sticks can be used for a wide variety of practice drills but their main use is to perfect one of the hardest things to do on the golf course and that is line up correctly. Best tip; place one alignment stick on your ball to target line a couple of feet in front of your ball. Then place a 2nd alignment stick on your feet line. These two sticks should be parallel to one another and this will help train not just body alignment but also clubface alignment at set up.
LEADBETTER BOOMERANG

The Leadbetter Boomerang is designed to aid in the development of better timing, as well as accuracy and distance by achieving better arm-body synchronisation. Just simply place the boomerang between your trail arm and body. The goal is to not let the boomerang fall during the swing.
LEADBETTER PUTTING MIRROR

The Leadbetter Putting Alignment Mirror is ideal for assisting you with face alignment, posture, and eye position. Place the golf ball in the highlighted area on the mirror and take your set up. The tramlines on the mirror assist you in your clubface alignment and you want to see your eyes directly over the golf ball.
GOLF TOWEL

A great drill to help create the perfect strike of ball then ground is to place your golf towel six inches behind your ball. The goal would be to hit whilst avoiding hitting your towel. With an iron, make your swing and strike the ball and then the ground on the target side of the ball. The more consistent strike you build the greater consistency of good golf shots will be created.
WATER BOTTLE

A basic 500ml water bottle can provide great assistance in achieving your desired club path. If you are struggling with slices due to an over the top swing you can place a water bottle standing upright six inches behind the ball, away from the target, and three inches away from your stance. If you take your typical swing then you may hit the water bottle. Swinging from the inside of the water bottle will help limit the amount of slice spin you create. If you're a golfer who is hooking the ball then place the water bottle on its side, between the ball and your stance. The water bottle only wants to be 2-3 inches from the ball and the bottle cap to be inline with ball with the rest of the bottle pointing away from the target. Take your swing and again avoid hitting the water bottle.
With a first class panel of Academy coaches – Leeds Golf Centre is a hub of professional golfing and learning in a wonderful, secure, and serene environment. At Leeds Golf Centre, we have a team of the finest Leadbetter qualified instructors who are always on hand to support your golfing journey. Our professional instructors are super friendly and incredibly talented and ready to support you and guide you in improving your golfing game. All you have to do is focus and leave the rest to us.
To book a lesson with a coach, you can choose from a private 1-2-1 lesson or a group coaching session. You can find more information here: here
To book your next golf coaching session Click Here